VectorBuilder Japan Launches Gene Therapy Pilot Program for Rare Disease Menkes in Japan
VectorBuilder Japan is thrilled to announce the inclusion of its collaborative initiative, the "Menkes Rare Pediatric Disease Clinical Research Pilot Program," in the Japan External Trade Organization's (JETRO) subsidy program for foreign direct investment. In partnership with Lantu Biopharma, Teikyo University, and Teikyo Heisei University, VectorBuilder brings its extensive expertise in rapid gene therapy development, production, and quality control to further explore gene therapy technologies for treating Menkes disease.
Japan's foreign direct investment incentive program aims to attract foreign-owned private enterprises that introduce and develop innovative technologies and business models in Japan. Selected companies receive subsidies to support product and service development, operations, and evaluations. The funding for this project is approximately 28.6 million Japanese Yen (approximately 200,000 USD) and will primarily be used for two key purposes:
1. Developing and optimizing gene therapies based on AAV vectors, conducting animal model validation, and clinical efficacy assessments.
2. Collaborating with cell and gene therapy companies and hospitals to evaluate the disease status of existing patients and develop gene therapies for treatment.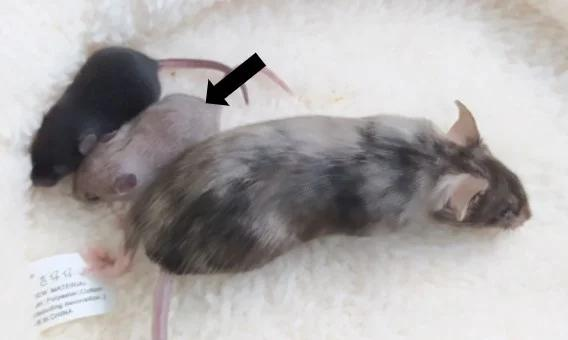 The mouse model of Menkes disease in this research (indicated by the arrow in the image)
In this project, VectorBuilder, in partnership with Teikyo University and Teikyo Heisei University, has conducted preclinical research on Menkes model mice and plans to collaborate with local hospitals to conduct an Investigator-Initiated Trial (IIT) to further validate clinical effectiveness. It's worth noting that Professor Kodama from Teikyo Heisei University is an authoritative expert in the Menkes field and has seen many Menkes patients in the past 40 years. She serves as a consultant for this research and is the moderator of Japanese Menkes physicians.
Dr. Miho Matakatsu, Managing Director of VectorBuilder Japan, stated, "The AAV vector designed and developed for Menkes by VectorBuilder has already been validated in Investigator-Initiated Trials (IIT) in China. Now we are using the same technology to further research and develop gene therapies for Menkes disease in Japan."
Dr. Miho Matakatsu added, "In general, gene therapy development takes approximately ten years and incurs substantial research and development costs, which is a significant challenge in today's gene therapy arena. Through this project, we hope to develop safe and effective gene therapies, reducing the drug development timeline and lowering treatment costs."
Menkes Disease, or Menkes syndrome, is a rare and severe genetic disorder affecting mainly males due to mutations in the ATP7A gene on the X chromosome, disrupting copper metabolism. This condition, typically evident in infancy, leads to developmental delays, neurological issues, and distinctive physical features. Without timely medical intervention, Menkes Disease can have life-threatening consequences, making it a profoundly challenging condition for affected individuals and families.
Previously, VectorBuilder formed a partnership with cell and gene therapy company Lantu Biopharma to develop AAV-based drug candidates for Menkes, providing CRO and CDMO services including AAV vector design and optimization, and clinical-grade AAV manufacturing. Lantu studied the efficacy and safety of the candidates and collaborated with 920 Hospital and Hope of Health Hospital in Kunming to perform an IIT to test the lead candidate, LTGT06, on the patient. The patient receiving LTGT06 treatment showed improvements after receiving the therapy, confirming VectorBuilder's strong capabilities in clinical gene delivery applications.
VectorBuilder Japan established its headquarters in Yokohama, Kanagawa Prefecture, in 2019 and opened its Western Japan office in the Kobe Medical Industry City in June 2023. The Japanese subsidiary provides local customers with professional product technical consulting and sales services. When customer projects need to transition to preclinical or clinical research overseas, VectorBuilder can provide robust support through its high-quality global market network.
VectorBuilder is a global leader in gene delivery technologies. As a trusted partner of thousands of labs and biotech/pharma companies around the world, VectorBuilder is the one-stop shop for the design, development, and optimization of gene delivery solutions from basic research to clinical applications. Its award-winning Vector Design Studio is a transformative innovation that allows researchers to easily design and order custom gene delivery vectors online, sparing them the tedious work of constructing vectors on their own in the lab. This global company features high-throughput vector production capacity, vast vector and component inventories, one-on-one CRO solutions including advanced AAV capsid engineering capabilities, and state-of-the-art GMP facilities. Its CGT products have obtained IND approvals from regulatory authorities including the FDA. With cutting-edge R&D and CDMO manufacturing capacity, the VectorBuilder team is committed to providing the most effective gene delivery tools and solutions for life sciences research and genetic medicine.