Plasmid Manufacturing

VectorBuilder can fulfill the full range of plasmid design, cloning and manufacturing needs throughout the genetic medicine drug development pipeline. Relying on our revolutionary vector design platform and extensive experience, we can provide optimal vector designs tailored to a wide range of research and clinical needs. For plasmid DNA manufacturing, we offer several grades that cover different downstream needs including drug discovery research, pre-clinical studies, clinical trials and commercialization.
Grades of Plasmid DNA Offered

Research-grade plasmid

Research-grade plasmid DNA is intended for basic research and drug discovery studies. It is made under standard laboratory conditions with stringent QC to ensure high quality suitable for all downstream research needs.

Learn more about our research-grade plasmid

GMP-like plasmid

GMP-like plasmid DNA is intended for pre-clinical studies such as animal testing of drug safety and metabolism. It is produced in a manner that adopts key features of GMP guidelines, including comparable production process and similar quality attributes. Production is performed in segregated production suites with document control and traceability. GMP-like grade can thus be viewed as a small-scale mimic of the final GMP product, but with much lower cost and faster timeline. Where appropriate, GMP-like plasmid can be produced under antibiotic-free, animal component-free, and RNase-free fermentation and purification conditions. A certificate of analysis (COA) is provided at the product release. TSE/BSE statement is available upon request.

GMP-grade plasmid

GMP-grade plasmid DNA is produced in our certified GMP suite with strict adherence to GMP guidelines. A comprehensive quality assurance system is implemented throughout the production process. A wide range of in-process and release QC assays are performed to ensure that the plasmid DNA meets or exceeds the desired quality and safety standards. A batch release report fully documenting the production process and a COA are provided at product release. Other documentation is available upon request.
Comparison of different grades of plasmid DNA
Research-grade
GMP-like
GMP-grade
Applications
Basic research, drug discovery, preclinical studies
Preclinical studies such as animal testing of drug safety and metabolism
Preclinical studies, clinical studies, and commercialization
Production scales
10 ug to several 100 mg
10 mg to 1 g per batch
10 mg to 5 g per batch
Turnaround
1-8 days
1-3 months
A few months to half a year
Quality system
ISO9001
ISO9001 while adopting key features of GMP system
ICH quality guidelines for GMP manufacturing
Production facility
In parallel production in shared laboratory space
Productions done in segregated suites
Production in certified GMP suites
Document control and traceability
No
Yes
Full traceability
QC and release
Concentration, OD260/280,
RE digestion
Depending on individual project needs
Full panel QC assays,
analytical development upon individual project needs
Aseptic fill/finish
N/A
Available upon request
Yes
Storage of retention sample
Available upon request
Available upon request
Yes
Document deliverable
COA upon request
1. COA
2. Manufacturing summary
3. TSE/BSE statement upon request
1. COA
2. TSE/BSE statement
3. CTD documents
4. Others (BMR etc.) upon request
Workflow for GMP Production of Plasmid DNA
VectorBuilder strives to deliver products of good quality on time. Here is a typical GMP production workflow of plasmid DNA: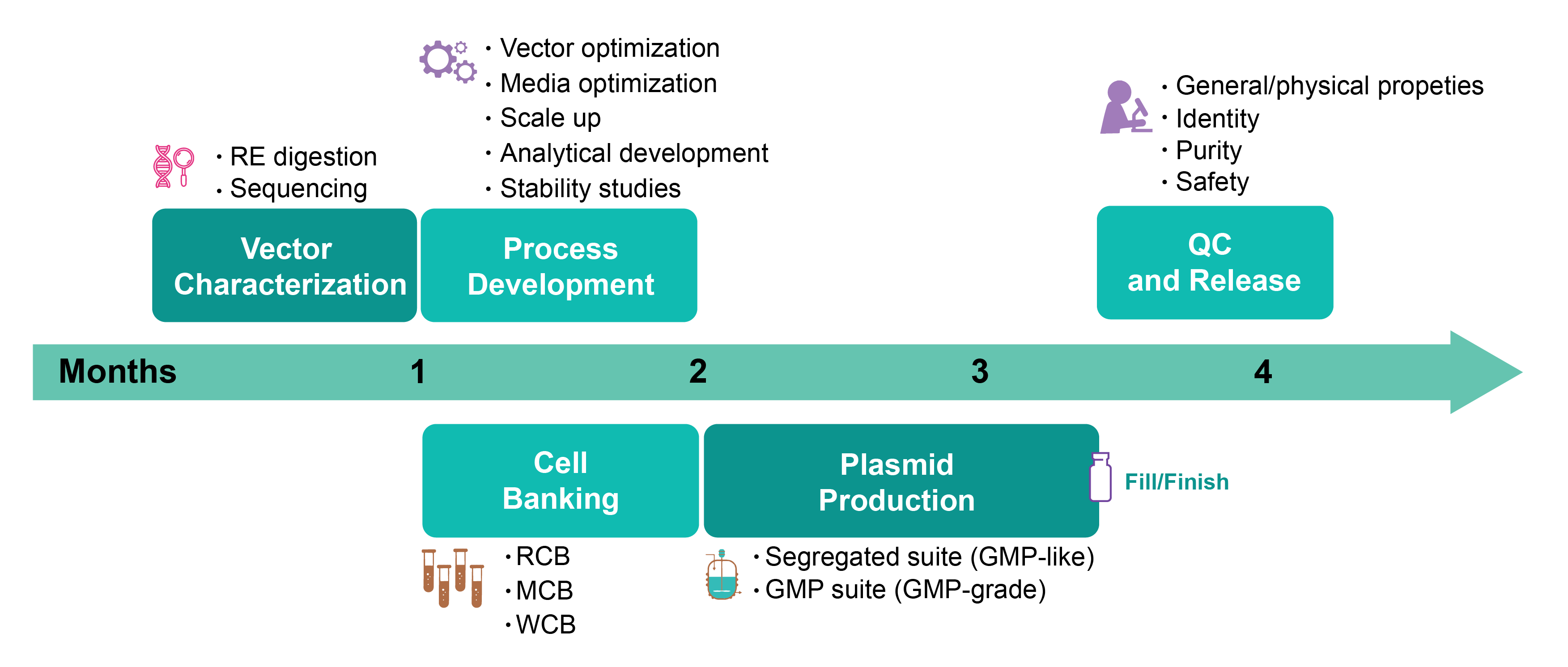 Technology Platform
We can produce plasmids from up to 100 L fermentation system with a yield up to 5 g per batch. A general manufacturing process is shown below:

Quality Control Assays
The list below summarizes the main QC assays for the release of GMP plasmid. These assays are also available for GMP-like plasmid per customer request.
Learn more about our analytical development
General/physical properties

Appearance, concentration, pH, extractable volume, osmolality, aggregation

Identity

Restriction enzyme digestion, sequencing

Purity

OD260/280
Supercoiled plasmid ratio: agarose gel electrophoresis, HPLC
Residual protein: Micro BCA, SDS-PAGE
Host E. coli DNA: qPCR, agarose gel electrophoresis
Host E. coli RNA: agarose gel electrophoresis, RT-qPCR, fluorometric quantification
Residual antibiotic: immunoassay

Safety

Sterility: direct inoculation, membrane filtration sterility test
Endotoxin: kinetic chromogenic assay (KCA)
Stability Studies
Drug stability studies are performed following ICH guidelines. Forced degradation studies are performed to evaluate the influence of light, temperature, pH, etc., on the quality attributes of the plasmid DNA.
Learn more about our cell banking and fill/finish services
Documents
Brochures & Flyers