VectorBuilder Leverages Danaher Solutions to Advance Gene Delivery Technologies
Approach signals a significant milestone for the promise of groundbreaking advancements in gene therapy
VectorBuilder, a global leader in gene delivery technologies, is pleased to announce it will utilize strategic new capabilities from global life sciences and diagnostics innovator Danaher Corporation to advance scientific research and clinical applications in the gene delivery industry to improve human health.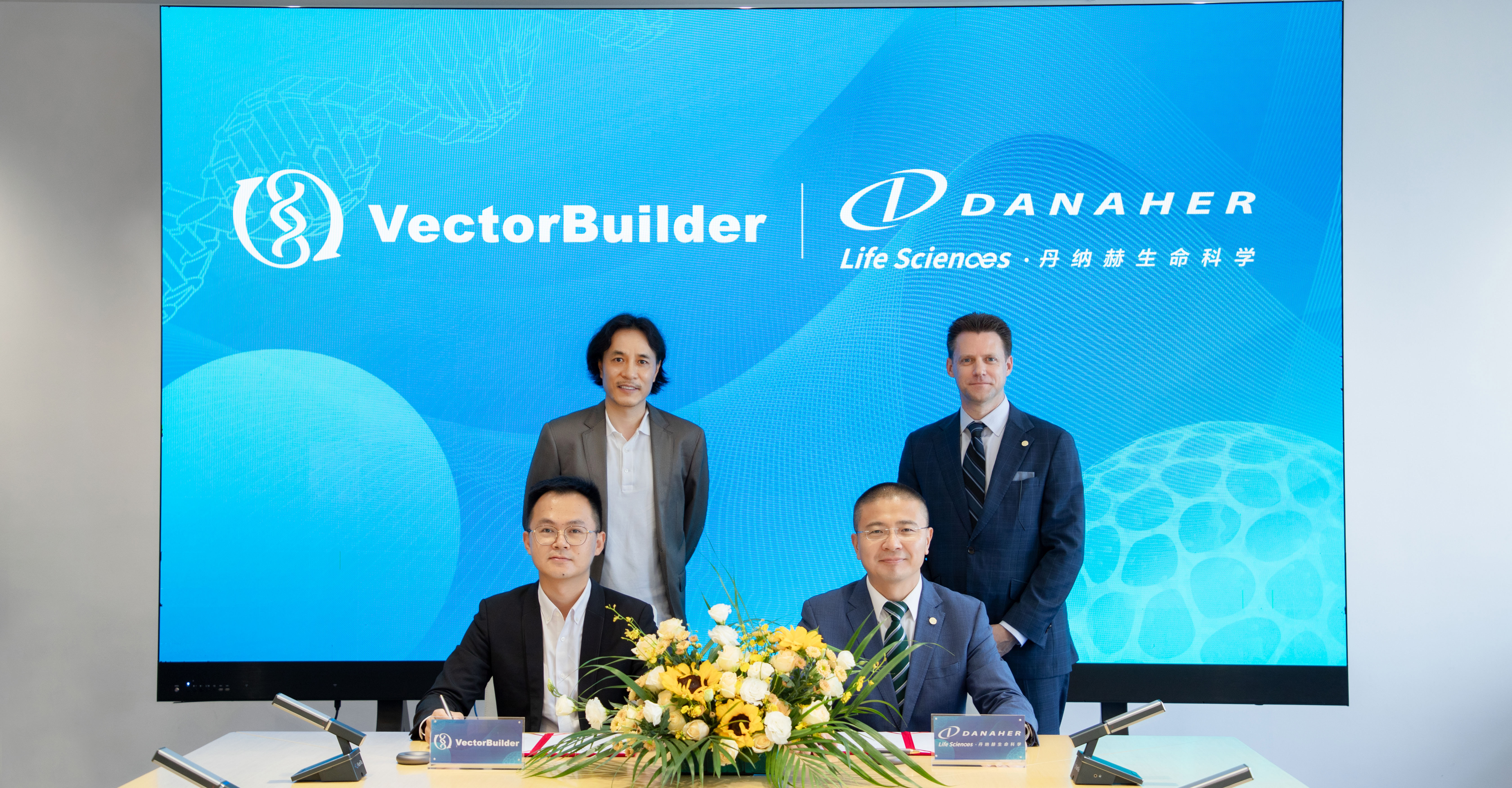 VectorBuilder will leverage research and manufacturing solutions from Danaher's operating companies for its innovative gene delivery technologies with the aim to develop and optimize preclinical and clinical production processes for several types of gene delivery vectors used in cell and gene therapy (CGT), including plasmid, lentivirus, AAV, and LNP-mRNA. This effort will focus on production scale-up and in-process quality control.
"Drawing upon VectorBuilder's comprehensive technical expertise and insights in gene delivery and gene therapy R&D and production, coupled with the life sciences resources offered by Danaher's operating companies, we anticipate delivering advanced products, technologies, services, and solutions to drive the progress of gene therapy development," said Dr. Bruce Lahn, Chief Scientist at VectorBuilder. "This approach aims to benefit our clients in both research and therapy, helping accelerate life science research, improve efficiency, and increase the accessibility of genetic medicines."
Furthermore, both companies are committed to working to foster advances in development and manufacturing in the gene delivery industry. In 2023 August and September, VectorBuilder and Danaher co-hosted two industry events in China, with the primary goal of cultivating increased collaboration within the field. The two companies thoughtfully designed these initiatives to facilitate meaningful discussions and promote knowledge sharing across the industry, ultimately enriching the gene delivery landscape.
About VectorBuilder
VectorBuilder is a global leader in gene delivery technologies. As a trusted partner of thousands of labs and biotech/pharma companies around the world, VectorBuilder is the one-stop shop for the design, development, and optimization of gene delivery solutions from basic research to clinical applications. Its award-winning Vector Design Studio is a transformative innovation that allows researchers to easily design and order custom vectors online, sparing them the tedious work of cloning and packaging vectors in the lab. This global company features high-throughput vector production capacity, vast vector and component inventories, one-on-one CRO solutions including advanced AAV capsid engineering capabilities, and state-of-the-art GMP facilities. Its CGT products have obtained IND approvals from regulatory authorities including the FDA. With cutting-edge R&D and CDMO manufacturing capacity, the VectorBuilder team is committed to providing the most effective gene delivery tools and solutions for life sciences research and genetic medicine.